Shopping Cart Items ($0.00)
Cooters Restaurant & Bar
Welcome to Cooters Restaurant & Bar . . . the premier location on Clearwater Beach for Seafood, Steaks, and FUN!
Celebrating our 20th Year! Big Tent Party May 17 &18, 2013!
Home of The Original ALL-You-Can-Eat Crab Legs Special!

If you want to get away from cookie-cutter "chain" restaurants, you've come to the right place. We're a little off the beaten path -- but that's one of the reasons the Locals love us! Our food is prepared fresh on the premises, and our seafood is delivered fresh daily. We're family owned and operated, and family friendly!
Not only does Cooters offer a broad selection of outstanding seafood, steaks, and sandwiches we also offer surroundings that whisk you away from the common place, and good times that will give you long-lasting smiles and great memories.
We have a legendary Happy Hour and a variety of Daily Specials. The locals will tell you Cooters is the place to go for "The Best Food on the Beach!"
We invite you to stop in for our lively Happy Hour, and while you're here check out our mouth-watering Daily Specials.
Have fun perusing our walls filled with license plates, pictures and other memorabilia given to us over the years by our loyal customers (and friends)!
Come Live a Little with us at Cooters!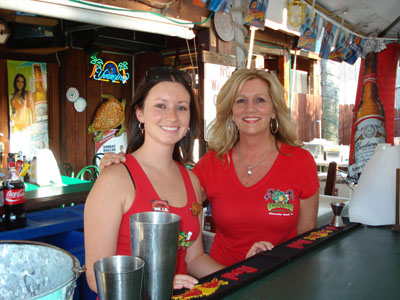 Oh yeah, don't forget our automatic party days...
Bad weather, time for a party
Big sporting event on TV, time for a party
Great weather, time for a party
A birthday (anybody's), time for a party
Hurricane watch, time for a BIG party!
COOTERS ANNIVERSARY PARTY! DON'T MISS IT!
Crab Fest - Annual, in October
What's a Cooter???
Cooter - A type of freshwater turtle, generally found in the south.
Cooters Restaurant & Bar is open daily:
Sunday - Thursday 11:00 a.m. to 11:00 p.m. (Sports bar open late)
Friday and Saturday 11:00 a.m. to 12:00 a.m. (Sports bar open late)
Cooters adjoining Sports Bar stays open until 1:30 a.m.
More Details: Great Kids Menu, Indoor & Outdoor seating, Free Wi-Fi, Smoking and Non-Smoking Areas, Private Party Room available. Also - "You catch 'em, We cook 'em" - Bring in your fresh catch and we will prepare it for you! (Available most days - please call first to be sure!) Gluten Free Menu available. Free parking in our front lot and rear of restaurant.
All the Sports action on 14 High Def. tv's., with sound, featuring MLB Network, NASCAR and NHL, NBA, NFL Ticket, Big Ten Network, ESPNU & ESPN Game Plan, and more. We've got your game!!
Cooters is located at 423 Poinsettia Avenue, Clearwater Beach. We're 1/2 block north of the Clearwater Beach Marina.
Phone 727-462-COOT (2668)
Thank you for visiting us online -- we hope to see you in person soon!