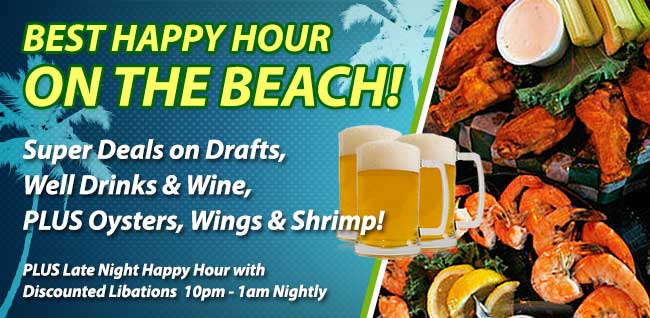 Monday & Tuesday:

Home of the Original All-You-Can-Eat Snow Crab! Voted Best Crab Legs Tampa Bay!

Originated by Cooters, and often immitated, but never duplicated! We serve only PREMIUM #1 Crab Legs! Cooters has the best legs in town! Hands down! We started this wildly popular special over 18 years ago, and it continues every Monday and Tuesday, starting at 11:00 a.m.. Come early and enjoy one of our refreshing Specialty Drinks with your snow crab. Our most requested: CooterAid!
Note: Last seating for AYCE is 9:30 pm, so you'll have plenty of time to enjoy your feast! Insider tip: Come for Lunch or an Early dinner (before 6 p.m.) to beat the crowd!
For starters, be sure to try a cup of our House made She Crab Soup, and for a crowd pleaser, everyone will love our Crabby Shrimp Dip!
Wednesday:
All-U-Can-Eat Fish & Chips
By popular demand, our famous Fish & Chips dinner is also served as an All-U-Can-Eat special every Wednesday! (All day, starting at 11:00 a.m.) Come enjoy baskets of delicious crispy fried pollock, french fries and cole slaw. What could be better? Ah, how about an icy cold Cooter-Rita to go with it? You'll think you're in paradise! (Oh wait - you are!)
Thursday:
Super Grouper Thursday!
Another Cooters original…Super Grouper Thursday….Real, Fresh Florida Grouper, (no imitations and no frozen grouper here) prepared a variety of ways, all at special pricing. (All day, starting at 11:00 a.m.) At Cooters, fresh grouper and other seafood arrives daily from local fisherman. Our Special Super Grouper Menu features: Grouper Parmesan, Grouper Picata, Grouper Buffalo- style, Blackened Grouper, Grilled Grouper, Seafood Stuffed Grouper, Broiled Grouper Dinner, Grouper Melt, Salad with Grouper Cheeks, and the best Grouper Sandwiches on Clearwater Beach! When you're in the mood for Grouper, Cooters is the place! Try our housemade Smoked Grouper Spread to start. One bite and you'll be hooked!
Friday, Saturday & Sunday:
On the weekend, you'll find Chef inspired Dinner Specials (starting at 5 p.m.) featuring sizzling steaks and fresh seafood.
Saturday & Sunday Football Specials:
During football season we feature $1.50 Drafts, $2.50 bottles, $3.50 shots and awesome food specials!
Don't forget -- we even have Happy Hour on the weekend!
Proud Winner at Clearwater Beach Restaurant Week!


Join us for
HAPPY HOUR
3-6 DAILY!
BEST HAPPY HOUR
ON CLEARWATER BEACH!
DISCOUNTED BEER, WINE & LIQUOR DRINKS
PLUS DISCOUNTED WINGS, OYSTERS & SHRIMP!
CHECK OUT OUR LATE NIGHT HAPPY HOUR TOO!
BEER, WINE, & DRINK SPECIALS 10 - CLOSE!