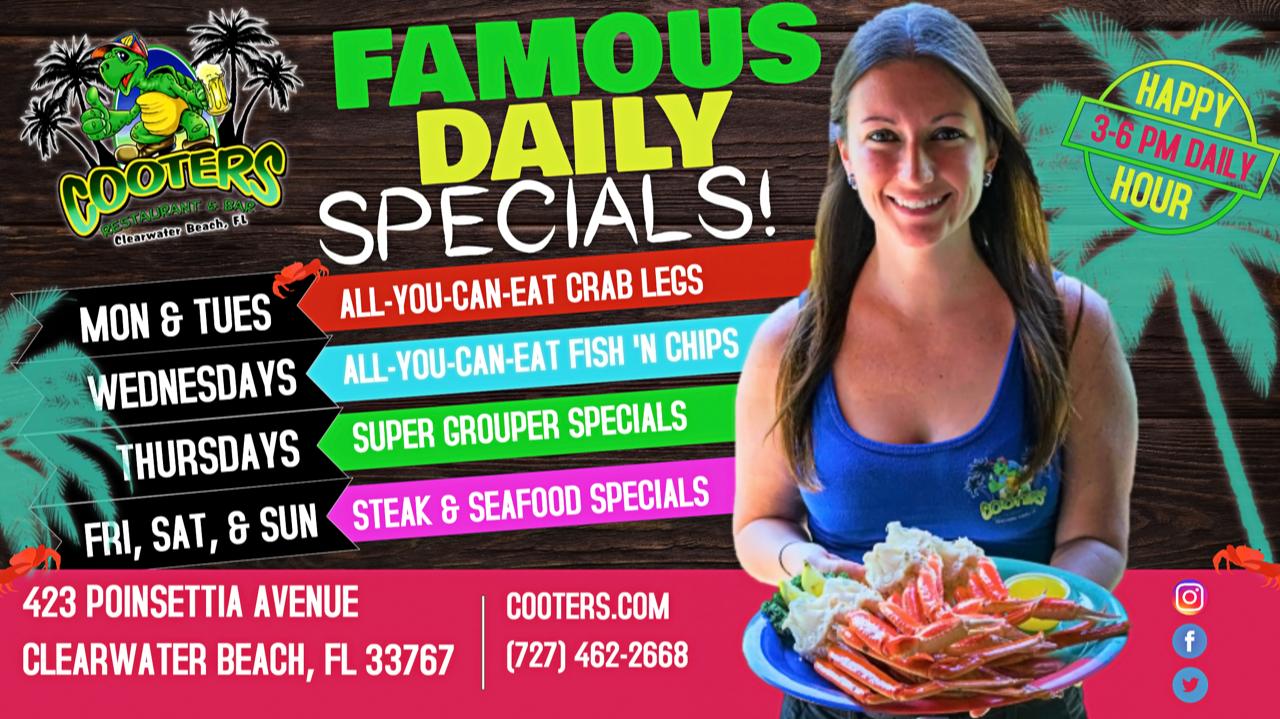 Monday & Tuesday:
Home of the Original All You Can Eat Snow Crab! Voted Best Crab Legs Tampa Bay!
Originated by Cooters; often imitated but never duplicated! We started this wildly popular special over 22 years ago, and it continues to draw guests from all over the globe, each year. Don't take our word for it, come and try the Best Crab Legs on the Beach for yourself! We serve only PREMIUM #1 Crab, ALL DAY, Mondays and Tuesdays— starting at 11:00 am. Cooters All-You-Can-Eat Premium Snow Crab is served with french fries and brown molasses bread. All three items are All-You-Can-Eat. Come early and enjoy one of our refreshing Specialty Drinks with your Snow Crab. Our most requested beverage: CooterAid! Note: Last seating for AYCE is 9:30 pm, so that you'll have plenty of time to for your re-orders! *Kitchen closes at 10:30 pm, thus your First Order must be placed by 9:30.
**For starters, be sure to try a cup of our House made She Crab Soup, and for a crowd pleaser, everyone will love our Crabby Shrimp Dip!
Wednesday:
All-You-Can-Eat Fish & Chips
By popular demand, we serve our famous All-You-Can-Eat Fish & Chips every Wednesday, starting at 11:00 a.m.! Enjoy baskets of delicious crispy Fried Pollock, French Fries, and Cole Slaw for Lunch or Dinner. What could be better? Ah, how about an icy cold Cooter-Rita to go with it? You'll think you're in paradise (oh wait— you are! )
Thursday:
"Super" Grouper Thursday!
Another Cooters Original… "Super" Grouper Thursday….Fresh Florida Grouper, prepared a variety of ways ALL DAY, starting at 11:00 am. Our Special Super Grouper Menu features: Crab Stuffed Grouper, Grouper Parmesan, Grouper Piccata, Buffalo Grouper Sandwich, Blackened Grouper, Grilled Grouper, Fried Grouper Dinner, Grouper Cheeks Caesar, Grouper & Shrimp Basket, Grouper Reuben, and the best Grouper Sandwiches on Clearwater Beach! When you're craving Fresh Grouper, Cooters Restaurant & Bar is the place to go!
Friday, Saturday & Sunday:
Friday starting at 5 pm, and Saturday & Sunday starting at 11:00 am, we serve Chef-inspired Specials featuring Steaks and Seafood. Don't miss the boat on these delicious specials!
Every Day: Happy Hour 3-6
Our legendary Happy Hour features the coldest Beer on the Beach, served in chilled mugs— plus awesome specials on Oysters, Wings, & Shrimp, Liquor Drinks and Wine— served 3-6 daily, throughout the entire restaurant!