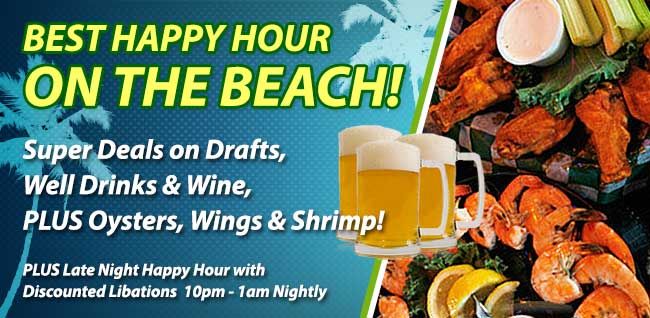 Monday & Tuesday:

Home of the Original All-You-Can-Eat Snow Crab! Voted Best Crab Legs Tampa Bay!

Originated by Cooters, and often immitated, but never duplicated! We serve only PREMIUM #1 Crab Legs! Cooters has the best legs in town! Hands down! We started this wildly popular special over 20 years ago, and it continues every Monday and Tuesday, ALL DAY & NIGHT - starting at 11:00 am. Our AYCE Snow Crab is served with french fries and hot molasses bread. Come early and enjoy one of our refreshing Specialty Drinks with your snow crab. Our most requested: CooterAid!
Note: Last seating for AYCE is 9:30 pm, so that you'll have plenty of time to for your re-orders! Kitchen closes at 10:30 pm and your First Order must be placed by 9:30.
Insider tip: Come for Lunch or an Early dinner (before 6 pm) to beat the crowd! Busiest time is usually 6-8:30 pm.

For starters, be sure to try a cup of our House made She Crab Soup, and for a crowd pleaser, everyone will love our Crabby Shrimp Dip!
Check out our "How To Eat Crab" Video below!
Wednesday:
All-You-Can-Eat Fish & Chips
By popular demand, our famous Fish & Chips dinner is also served as an All-You-Can-Eat special every Wednesday! (All day, starting at 11:00 a.m.) Come enjoy baskets of delicious crispy fried pollock, french fries and cole slaw. What could be better? Ah, how about an icy cold Cooter-Rita to go with it? You'll think you're in paradise! (Oh wait - you are!)
Thursday:
Super Grouper Thursday!
Another Cooters original…Super Grouper Thursday….Real, Fresh Florida Grouper, prepared a variety of ways, all at special prices, all day, starting at 11:00 am. Our Special Super Grouper Menu features: Crab Stuffed Grouper, Grouper Parmesan, Grouper Piccata, Buffalo Grouper Sandwich, Blackened Grouper, Grilled Grouper, Fried Grouper Dinner, Grouper Surf & Turf, Grouper Cheek Caesar, Grouper & Shrimp Basket, Grouper Reuben, and the best Grouper Sandwiches on Clearwater Beach! When you're hungry for Fresh Grouper, Cooters is the place!
Friday, Saturday & Sunday:
Weekends starting at 5 pm, you'll find Chef inspired Dinner Specials featuring Steaks and Seafood.
Don't forget -- we even have Happy Hour on the weekends! 3-6 and 10 pm - close! "Why limit Happy to an hour?"

Proud Winner at Clearwater Beach Restaurant Week!


Join us for
HAPPY HOUR
3-6 DAILY!
BEST HAPPY HOUR
ON CLEARWATER BEACH!
DISCOUNTED BEER, WINE & LIQUOR DRINKS
PLUS DISCOUNTED WINGS, OYSTERS & SHRIMP!
LATE NIGHT HAPPY HOUR TOO!
BEER, WINE, & DRINK SPECIALS 10pm-close!
Save